NFC- Smartphone readable: NeoTAG® Label MF/F2108
This new type of transponder was developed specially for applications where it is not possible to use one of our proven NeoTAG® transponder in Inlay, Plug or Flag versions due to the design requirement of the object. There are versions available for use with metallic and non-metallic objects. Depending on the required installation of the adhesive film transponders, different compositions can be realized with ferrite layers as the bottom or top layer. On non-metallic objects, there is no need for the ferrite film, thus creating very flat transponders. The outer dimensions can be adjusted variable to meet the application space requirements.
Due to its flexible design, this label transponder can be applied to both curved and bent surfaces.
Unlike label transponders with antenna layers made of aluminium or copper, this transponder uses an antenna layer of wounded copper wires. This produces significantly better electrical properties with regards to the electric quality factor and the effective antenna surface.
Compared to the other NeoTAG transponder designs, the larger antenna surface offers particularly exceptional read properties when combined with mobile end devices such as smartphones.
Image 1: NFC transponder, ferrite top layer
Image 2: NFC transponder, ferrite bottom layer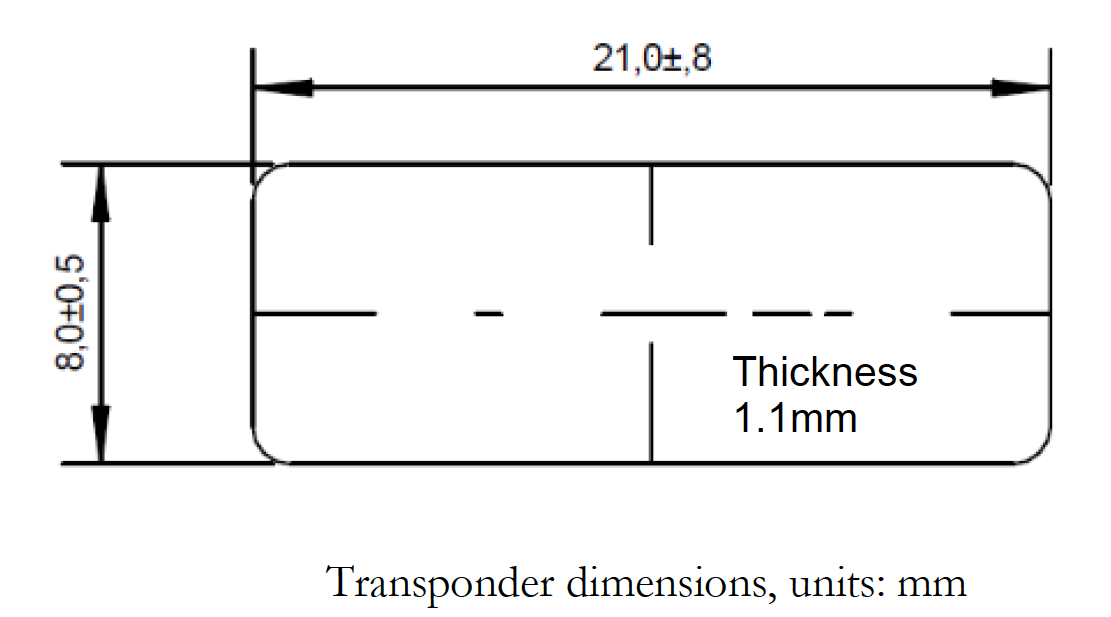 Technical data:
Article number:
00705341 F2108 (with NXP ICODE SLIX) for non-metal use
00705340 MF2108 (with NXP ICODE SLIX) for metal use
HF RFID protocol:
ISO 15693
Chip:
NXP ICODE SLIX, SLIX-S, SLIX2 and others upon request
Frequency:
13.56 MHz
Reader range:
with NFC compatible mobile end devices approx. 60mm, depending on mobile device
with industrial HF-RFID readers: up to 100mm
Operating temperature:
0°C to +85°C
Protection class:
IP44
Dimensions(LxWxT):
e.g. 21 x 8 x 1.1/0.9mm
Characteristics:
Customised dimensions of wxh: 8x8mm to 50x50mm
Transponder thickness with ferrite layer <1.1mm
Transponder thickness without ferrite layer <0.9mm
Application-specific adjustment of the layer design
Automatic processing, e.g. using vacuum nozzle
Attached using adhesive film
Readable using industrial RFID readers from 200mW output power
Alternatively readable and programmable using modern smartphones and other mobile devices with NFC function
Programmable using URL data e.g. direct access to a webpage
Vibration resistant
User data memory: 896/2112/2528 bit depending on used IC
IC with password protection and encoded protocol on request
Top layer with customer-specific logo and colour on request
NFC Forum Type 5 TAG
Suitable for curved or bent surfaces
High frequency stability of +/-200Hz
Applications:
Service and maintenance
Stock management
Product tracking
Errorless identification of shop-floor equipment such as tools, devices, operating material, machines, household appliances, ...
Digital production and tool management in INDUSTRY 4.0
Tool misuse protection
IoT applications in conjunction with mobile end devices
Electronic type plate
Hidden labelling of non-metallic objects (see application example 2)
For non-metallic objects: NeoTAG® Label F2108
For metallic objects: NeoTAG® Label MF2108
Image 3: Application example 1: metallic object with embedded NFC label transponder NeoTAG® Label MF2108 (in metal)
Image 4: Application example 2: metallic object with NFC label transponder NeoTAG® Label MF2108 on top(on metal)
Image 5: Application example 3: non-metallic object with NFC film transponder NeoTAG® Label F2108
Packaging:
VPE:
100 pcs as bulk package in plastic bag.
1,500 pcs. on T&R
Tell us your requirements - we will develop the right solution for you!
Have we aroused your interest? Then contact us about the latest generation of HF/NFC transponder antennas in axial or radial design.
Download