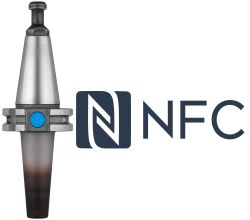 Press-in transponder for metallic objects, easy readable by NFC-enabled mobile devices
The NFC transponder NeoTAG® Plug FG/MFG10340 shows the consistent further development of our NeoTAG® HF transponder family. It offers the same resistance against harsh environmental conditions as the long-established miniature RFID transponder NeoTAG® FG/MFG4335 in 4mm press-in housing. The maximum dimensions of this new NeoTAG® Plug FG/MFG10340 are 10.3 millimeters in diameter and only four millimeters in height. It offers reliable readability and programming by almost all modern smartphones which offer NFC functionality.
A 10 mm hole already exists in e.g. tool fixtures on machine tools and machining centers. With the easy-to-use press-fit housing, the NeoTAG® Plug FG/MFG10340 can be installed safe, quick and reliable. Following the concepts of INDUSTRY 4.0, this transponder creates smart tools for implementing transparent, digital processes in industrial applications in just a few easy steps.
For quick, clear identification of metallic and non-metallic objects.
NeoTAG® Plug FG/MFG10340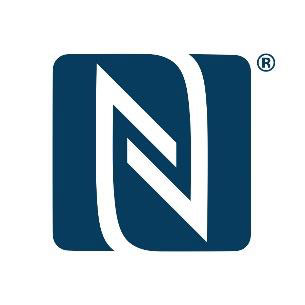 Einheiten: mm
Technical specifications:
Item numbers:
00705016 FG10340 (with NXP ICODE SLIX) Non Metal
00705017 MFG10340 (with NXP ICODE SLIX) Metal
Housing material:
PPA GF30, cyan blue, other colors on request
HF RFID protocol:
ISO 15693
Chip:
NXP ICODE SLIX, SLIX-S, SLIX2 and others on request
Frequency:
for 13.56 MHz
Reading range:
up to 220 mm (depending on reader, reading antenna and application)
Operating temperature:
-40°C to +85° C (for read and write function)
Special environmental
temperatures:
+180°C (up to 90 hours / 14 cycles)
+200°C (up to 5 hours / 100 cycles)
+220°C (up to 2 hours / 167 cycles)
+275°C (15 minutes / 1 cycle)
Weight:
0.36 g/ piece
Characteristics:
Industry proof dimensions of 10 mm in diameter and 4 mm in height
Easy mounting process without special tools by press-in or punch-in
Readable by standard RFID readers with min. 200mW output power
Alternatively readable and programmable by modern smartphones with NFC function in metal and non-metal environments
Programmable with URL data for direct website access
IP protection class IPx8: continuous immersion in water
Vibration resistant
High mechanical abrasion resistant
Resistant against a large number of chemical substances
User data memory: 896/1280/2112/2528 bit depending on IC type
IC with password protection and encrypted protocol on request
Customized logo and color on request
NFC Forum Type 5 TAG
FDA compliant housing material on request
Application: NeoTAG® Plug MFG10340 for
identification of hollow shank taper
Applications:
Maintenance and repair
Inventory management
Product tracking
Identification in process management for tools, devices, fixtures, equipment, machines, …
Digital manufacturing and tool management in INDUSTRY 4.0
Tool protection to avoid misuse
Tool service life monitoring
Maintenance management for tool revision
IoT applications
For non metallic objects: NeoTAG® Plug FG10340
For metallic objects: NeoTAG® Plug MFG10340
Packaging:
Packaging unit 500 pcs bulk. Other types of packaging on request.
Tell us your requirements – we will develop the fitting solution for you!
Have we aroused your interest? Then get in touch with us.
Download