Our product range of NeoTAG® HF RFID transponders/ RFID chips is constantly being expanded and new transponder versions are regularly added. In connection with the use of our transponders, we have compiled a large amount of background information on mounting, function, design, operating behaviour, etc. due to the many applications in which the products are used. As a supplement to our Product Information HF RFID Transponder data sheet, this article contains further technical explanations and application-supporting information.
The NeoTAG® Plug transponders are inserted into a suitable cavity, e.g. a drilled hole, in the object to be marked. The following installation procedure is recommended:
Create a drilled hole/blind hole with the dimensions specified for the respective transponder type. These can be found in the previous section of this Technical Recommendation. Please take into account the tolerances mentioned in order to ensure optimum press-fit fastening of the plug transponder in the hole.
Make sure that the mounting hole is free of any residue. Dust, drilling chips and grease reduce the fixing force of the press-fit mounting for the transponder in the drill hole. We recommend cleaning, degreasing and drying the drill hole.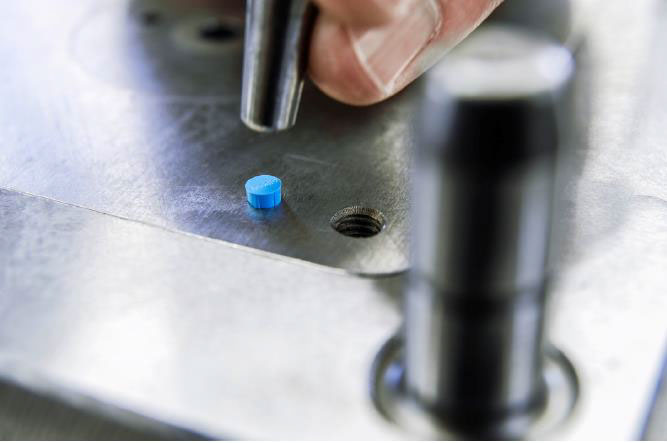 Insert the NeoTAG® Plug Transponder into the drilled hole in a centred position. This can be done in a manual process or automated with suitable fixtures.
Press the NeoTAG® Plug transponder vertically into the drilled hole using a suitable tool. Use e.g. a punch tool with a flat front. Make sure that the press-in tool completely covers the transponder surface. This ensures flush insertion. Punctual mechanical stress of the transponder can lead to damage! The recommended force for pressing the transponder into the hole is F = 40 N. Avoid press-in forces above 300 Newton (the maximum permissible forces can be found under point 7 of this document). Higher forces can damage the transponder.
Check the function of the NeoTAG® Plug transponder with a suitable RFID reader.
Tell us your requirements - we will develop the right solution for you.
Have we aroused your interest? Then contact us about RFID transponders for different frequency ranges. Customised solutions are our speciality. We will be happy to support you with our know-how to realise your product development.
Download